project:biolab:brmhistology
Table of Contents
BrmHistology
~~META: status = active &relation firstimage = :project:projectlogo.png ~~
Uz pres rok rezeme zivocichy [mrtve, zivi se prilis hemzi] na platky a menime prirozene bezbarve tkane na 50 odstinu fialove/ruzove ;]
Technika
Mikrotomy
Mikrotom sankovy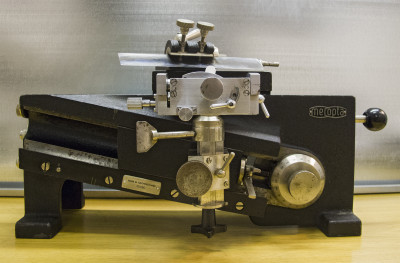 Pro presnejsi histologickou praci stoji na mikroskopovacim stole mikrotom Meopta 596 C8. Je to poradny kus kovu, prosime nepresouvat ;] Nuz je k dispozici na vyzadani pote co bude zajemce obeznamen s funkci pristroje, bez toho je velice snadne se nozem zranit nebo ho znicit [popripade oboji]. Mikrotom je vhodny pro rezani tkani zalitych do parafinu, tloustka rezu je nastavitelna do 3 um.
PS: tento pristroj neni hackable, je to jedna z tech veci kterou nelze prilis obejit DIY projektem, je potreba poctivy kus tezkeho zeleza ;]
PPS: pokud uz mate opravdovy mikrotom, lze s nim provadet drobnejsi hacky, napr. pokud je potreba prichladit vzorek [parafin se krouti, lame v teple mistnosti], hodi se Peltieruv clanek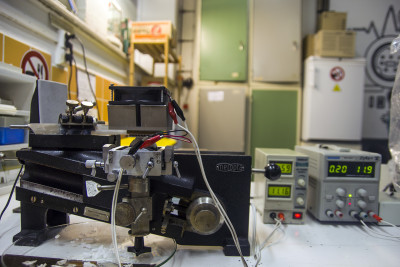 Mikrotom [rucni]
owner: pinky
Pocitejte s tim ze u tohoto mikrotomu nedosahnete kvality kterou vetsina skutecne histologicke prace vyzaduje, vzdy dostanete vzorek na nemz bude videt nekolik vrstev bunek, pri barveni budete videt "orvane" okraje tkani, ktere se barvi ochotneji nez u spravne rozvnomerne provedeneho rezu. Je ale dostacujici na nektera pozorovani rostlinnych pletiv a tkani, ktere maji transparentnejsi charakter [napr. tuk nebo chrupavky]. K mikrotomu patri mikrotomovaci nuz [je mozno nahradit ziletkami, pokud zjistite ze je nuz tupy a nemate odvahu jej brousit].
Princip prace s mikrotomem je videt nize na videu [popripade si chytte sumie-dh, ukaze vam to pokud si nejste jisti].
uB-acKfWlV4
Mikroskopy
Histologicke barvicky
Aktualne disponujeme slusnou paletou barviv vhodnych pro mikroskopii. Podivejte se co se schovava v http://brmko.brm/chemlab.html pod tagem barvivo. Pokud najdete pozadovanou barvicku jako roztok, je doporucovany postup jej pouzit misto vyroby noveho roztoku. Barvicky jsou drahe a spousta protokolu ktere najdete "nekde na internetu" nefunguji tak jak by mely. Konzultujte nejen techniku, ale i pouzitou chemii s chemlabaky , napr s pinky, je mozne ze lze pouzit chemii setrnejsi k pozorovateli a cene procedury.
Drobne potreby vhodne k priprave vzorku
Muze se hodit:
Preparacni sada [pinzety, preparacni jehly, ocni nuzky]
500ml topne hnizdo + sklenena misticka na vodu vhodna na natahovani rezu
Velka hodinova skla pro zachytavani nepovedenych rezu
Stetce pro cisteni mikrotomu
Sklenene desky vhodne jako podlozka pri montovani rezu

Drobne 3D modely
Nektere veci mame jiz namodelovane pro 3D tisk, vyhneme se tak efektu 'lze koupit pouze v baleni po 500ks'. Zalevaci komurky je vhodne tisknout z tepelne odolnejsiho plastu, napr PET. Vetsina plastu pouzivanych v 3D tisku se nekamaradi s prosvetlovacimi rozpoustedly [benzen, toluen, xylen].
Zalevaci komurky [base molds]
mrnave vzorky
male vzorky
stredni vzorky
velke vzorky

Histologicke kazety [male]
Kosticky do mikrotomove svorky > dobre nam funguji LEGO kostky ;]
Nastavitelne boxiky na zamontovane vzorky
Barvici protokoly
Z hovoru s odborniky s praxi z oboru vyplynulo ze internet neni prilis dobrym zdrojem spolehlivych protokolu. Proto postupy prebirame ze skripta Histologie a histologická technika II od Zdenka Vacka. Oba dily velmi pravdepodobne najdete v biolabi knihovne.
V biolabu se pouziva odvodnovani alkoholovou radou, prosvetlovani toluenem a zalevani do parafinu [Paraplast s ruznou teplotou tani]. Mame DYI verzi vodni lazne pro parafinovani a termostat pro natahovani parafinovych rezu na sklicko. Montuje se do Eukittu kvuli jednoduchosti [odpada nutnost vracet rezy zpet do termostatu kvuli tvrdnuti kanadskeho balzamu].
Vyzkouseli jsme a fungovalo:
Eosin-Hematoxylin
Nisslovo barveni
Grammovo barveni
Bielschowskeho protokol [nervove fibrily] Fuchsin [barveni rostlinnych pletiv]
Vysledky
project/biolab/brmhistology.txt · Last modified: 2017/09/20 23:01 by sumie-dh
---