Table of Contents
Brmzion
~~META: status = idea &relation firstimage = :project:brmzion-source-x128.png ~~
což takhle vytvořit terminál pro operativce venku. Napadlo mě použít Psion5 , vykuchat ho, ponechat pouzdro, displej (monochrome s podsvícením) a klávesnici. Vzít RPi,oholit konektory a vložit inside. Na gpio připojit klávesnici , displey. Psion napají 2xAA baterie.. což mi přijde docela fajn, protože když to venku chcípne člověk zajde na benzínku (etc) koupí dvě tužkové a nemusí řešit nabíječku. takže dvě tužké s nábojou pumpou. Na boky bych vyvedla I2C,SPI, CAN , plus usb z rpi, případně ethernet, těžko říct.. Displej bych ponechala original , monochrom žere extremně málo a pro práci v terénu je naprosto dostačující. Možná by šlo do části s diplejem vložit oholené SDR-ko.
Jen nápad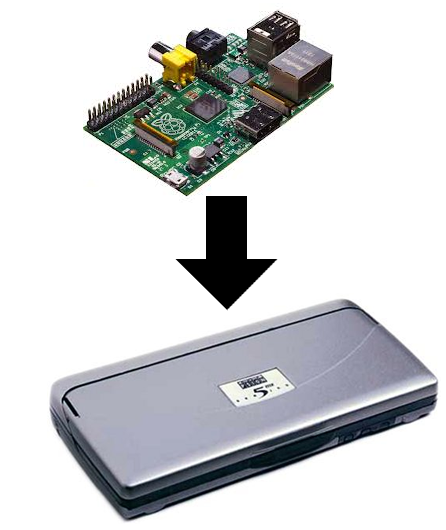 prostě takovej malej mobilní terminálek..
Další spůsob jak to udělat, by byl nechat origionální elektroniku, a zvětšit obal trošku. Pak použivat Serial. To by asi taky žralo vic baterie, ale nezičil by tu původní elektroniku.
LapPi
http://blog.parts-people.com/2012/12/20/mobile-raspberry-pi-computer-build-your-own-portable-rpi-to-go/ http://hackaday.com/2012/12/21/raspberry-pi-laptop-is-just-a-little-too-big-for-a-pocket/
Nebo tohle: http://www.instructables.com/id/LapPi-A-Raspberry-Pi-Netbook/
Nebo neco starsiho?
project/brmzion/start.txt · Last modified: 2016/11/28 00:45 by ruza
---