Denisa Kera: jsi co jíš, ale můžeš také jíst, co jsi
Denisa Kera:
jsi co jíš, ale můžeš také jíst,
co jsi (Vertumnus večeře)
organizer:
ruza
date/time:
20.5.2011 20:00
place:
brmlab
stream:
20.května, BRMLAB od 20:00
Personalizovana DNA vecere venovana Arcimboldove obrazu Rudolfa II. v podobe Rimskeho boha vegetace, Vertumna, pro lidi s 23andme profilem. Vyzkousime, jak funguje sdileni osobnich genetickych informaci v prostredi restaurace a pres jidlo.
Témata
Co se stane, kdyz vase DNA rozhoduje o menu?
Jak budou restaurace pouzivat DNA data?
Jake zabavne formy interakce si dovedeme predstavit pres DNA data?
Jak se lide budou sdruzovat a interagovat pres podobna data?
Jak to ovlivni zazitek vecereni v restauracich?

MENU
Predkrm: dle genealogickeho profilu - DNA kulinarska exkurze v case & prostoru
Hlavni jidlo: ADRA2A, MTHFR & TAS2R38 variace
Piti: OPRM1 vinko a COMT caje

Denisa Kera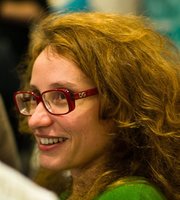 DNA analysis results (example)
Subject results most likely fit is 36.9% (+- 15.5%) Europe (various subcontinents) and 63.1% (+- 15.5%) Europe (all Northeast Europe) which is 100% total Europe
The following are possible population sets and their fractions, most likely at the top
Tuscan= 0.315 Lithuani= 0.685
Italian= 0.339 Lithuani= 0.661
Hungary= 0.667 Lithuani= 0.333
Italian= 0.213  Belorus= 0.787
French= 0.311  Belorus= 0.689
Which probably means that what counts is the average spot on the map of those, which is seen on the map to be on the Czech-Polish border.
The small non-Euro spots on Chromosome 6 are very common and meaningless.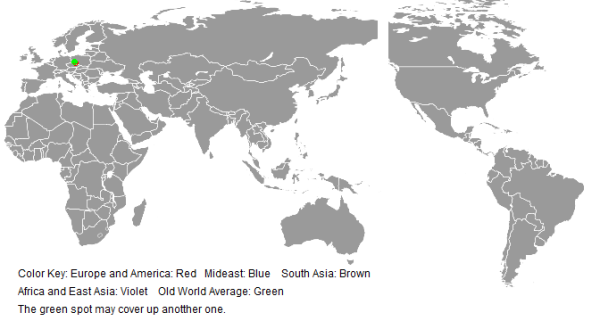 Photos
Video
Links
event/denisa_kera.txt · Last modified: 2016/12/07 22:08 by 127.0.0.1
---