ruza
brmlab chairman, council member and IT security guy

"Hackers have mindset to see what is possible"

event organizator

linux and unix support, net.work.ing

regular conferences visitor

I am interested in IT security from all (mainly white hat and black hat) perspectives. Both of them have something to offer for a better world.
Projects
brmlab
My most important project in brmlab is brmlab itself. I am tryin to keep brmlab functional and awesome. Although I am not very oriented into hardware brmlab gave me an opportunity realize few hardware project (description of the most interesing follows)
k-tool
Colaboration with Prokop Bartonicek, Tomislav Arnaudov and Tomas Suchan. K-tool is custom hardware device consisting of small mirrors, stepper motors, controled using Arduino. My contribution was mainly in project organization and software programming on Arduino components. More info at http://www.prokopbartonicek.com/?p=524
hardware clock
Just an broken hard disc turned into analog clocks. The most problems i had to fight with were related to questions like how to put it all together to make it look like as little groomed and at the same time make it possible to replace the battery an easy way.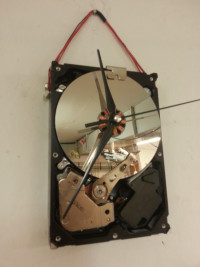 HW scrap pen holder
My talks
Other usefull things
CSIRT
Motto
user/ruza.txt · Last modified: 2016/11/11 21:03 by ruza
---