Confidence 2.0 2010
Confidence 2.0 2010
organizer:
stick
date/time:
29.11.2010 - 30.11.2010
place:
Wellness Hotel Step
stream:
CONFidence will take place in Prague (Wellness Hotel Step).
We should be there and present brmlab the best we can.
Ideas:
Before the event we will hold an Brmlab Opening Party.
BREAKING NEWS Duo lockpickeru z rad Brmlabu vyhralo v pondelni lockpicking soutezi poradane v ramci doprovodneho programu Confidence konference zastupcem organizace Tool (The Open Organisation Of Lockpickers, toool.nl). Dvojice soutezicich kazdeho tymu spojena za zapesti policejni klepety a mela za ukol otevrit v casovem limitu peti minut jak skrinku obsahujici zamky ruzne slozitosti, tak se nakonec vysvobodit z pout. Jak dokazuje nasledujici foto vysledkove listiny, brmlab tym nemel jiz pred vyprsenim casoveho limitu co otevirat. Otevreli vsechny zamky a za to jim patri uznani.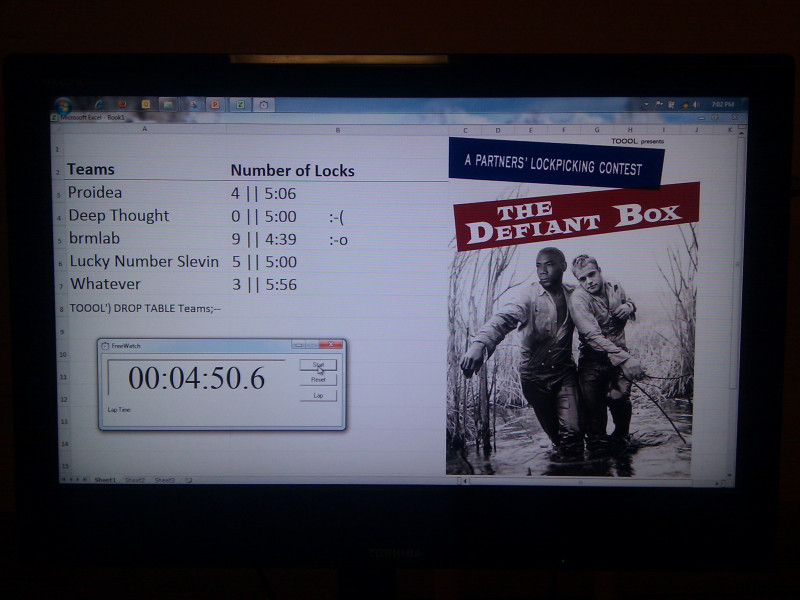 event/confidence2010.txt · Last modified: 2016/12/07 22:08 by 127.0.0.1
---