equipment:nortel-baystack-450-24t-switch
Table of Contents
Nortel Baystack 450-24T, 24port
Overview
This switch is a 24 port 10/100 switch. It has a serial console interface, and also allows management via Telnet and SNMP. It supports bandwidth throttling, multilink trunking, mirrored (span) ports, etc.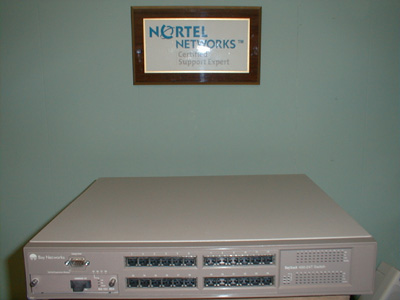 End-Of-Life
As per Nortel, "The Ethernet Switch 450 has been Manufacture Discontinued on March 1, 2007. Full support for the Ethernet Switch 450 will end on July 31, 2012". The major effect of this on users is that software/firmware updates are NO LONGER available without a support contract through Nortel.
Quick info
Downloads
Serial console [important]
A VT100 or ANSI-compatible terminal or a PC with a serial port and the ability to emulate a VT100 terminal.
Remember to select the correct serial PORT (/dev/ttyS0) when configuring your terminal emulation software on your laptop.
9600


No parity

8bits

1 stop bit

Flow control set to Off
A straight-through RS-232 cable with a female DB-9 connector for the console port and the other end of the connector must have the appropriate connector for the serial port on your (the FE's) computer.
  ***********************************************
  * Nortel Networks                             *
  * Copyright (c) 1996,1999                     *
  * All Rights Reserved                         *
  * BayStack 450-24T                            *
  * Versions: HW:RevL  FW:V1.36 SW:v1.3.1.2     *
  ***********************************************

Enter Ctrl-Y to begin.
Manual
equipment/nortel-baystack-450-24t-switch.txt · Last modified: 2010/10/29 02:20 by ruza
---